Autymate My Transaction(AMT) for Minuteman Press Follow
Following is the user guide article for the Minuteman Press & Autymate Transactions (AMT). Kindly go through the guide to understand the functionality features provided by Autymate.
Getting Started
After signup/in and linking your QuickBooks Online with Autymate, you'll see the following page with multiple options, such as
Start Here

Auty-mations

Connections

Auty History

Add New Connection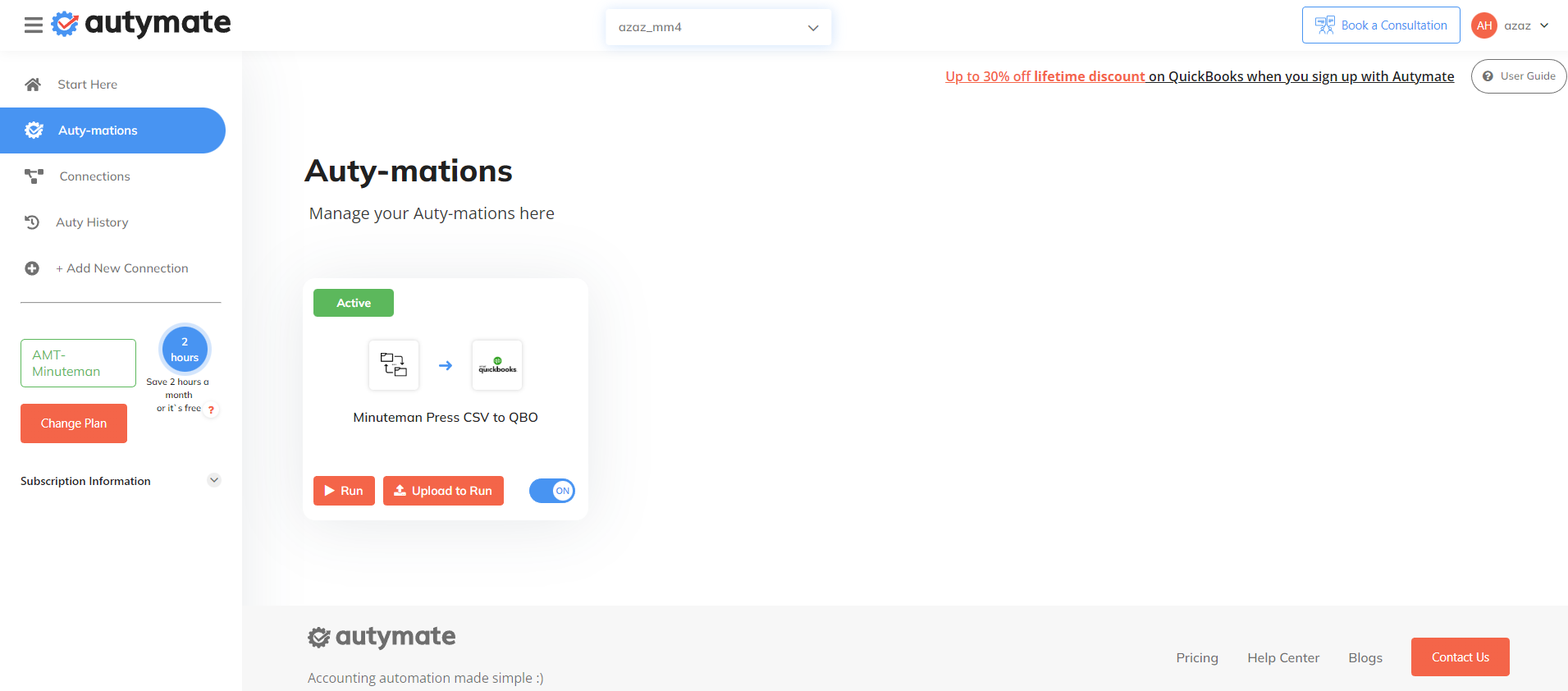 Auty-Mation:
After signing in, click on Auty-mations tab on the left side of the menu to see the integration page, where you can see an integration tab (Minuteman Press CSV to QBO). Through this integration, the data will be picked from the FTP servers and will be posted to your QuickBooks automatically every 6 hours.
Here is a visual example of the Integration page: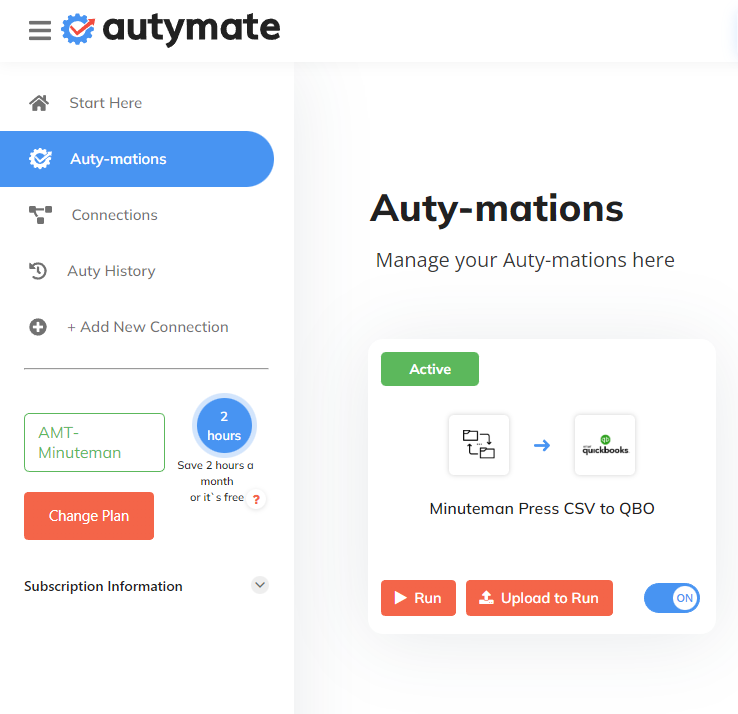 In case you want to upload a (CSV) file manually, you can do so by clicking on Upload to Run. Once the file is uploaded, it will be processed to your connected QuickBooks Online.
Connections
In this tab, you can see your active QuickBooks Online connections. In case your QuickBooks connection is broken (for which you'll be notified via a friendly message in Auty History), OR if you have multiple connections available, you can disconnect and reconnect the desired QuickBooks file through the connections tab as shown below: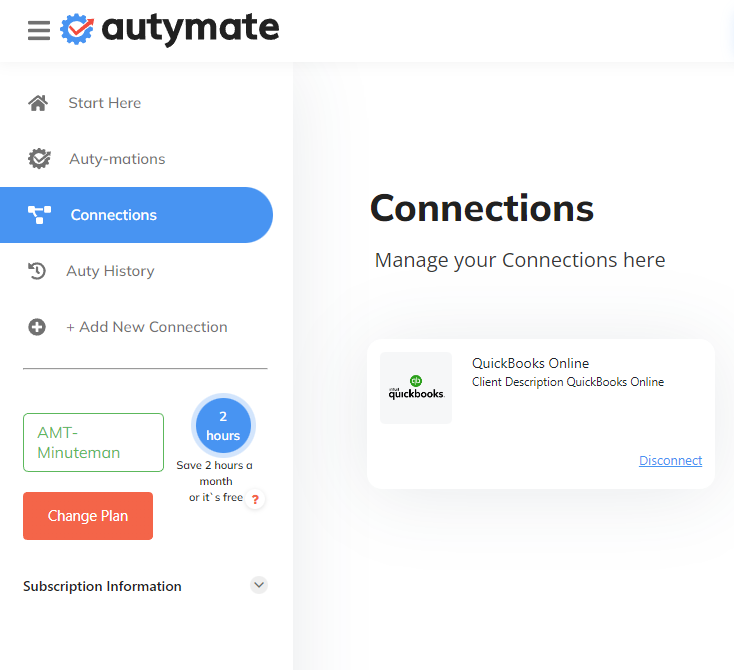 If your connection is broken, click on Disconnect & Reconnect your QuickBooks to resolve the issue.
Note: Kindly reconnect only the same QuickBooks company file that was disconnected; connecting a different company file than the one you previously used could create issues.
If you want to change your company file entirely, kindly contact the support team.
Auty History
There is an Auty History against every Auty-mation (Integration). Click on the Auty History tab to go through the data processing history. You can set filters on the Auty History page according to your needs, such as
Current Week

Custom

Trailing 3-months

Trailing 6-months
You can also check the status of all your processed/failed files on the Auty History page as shown below: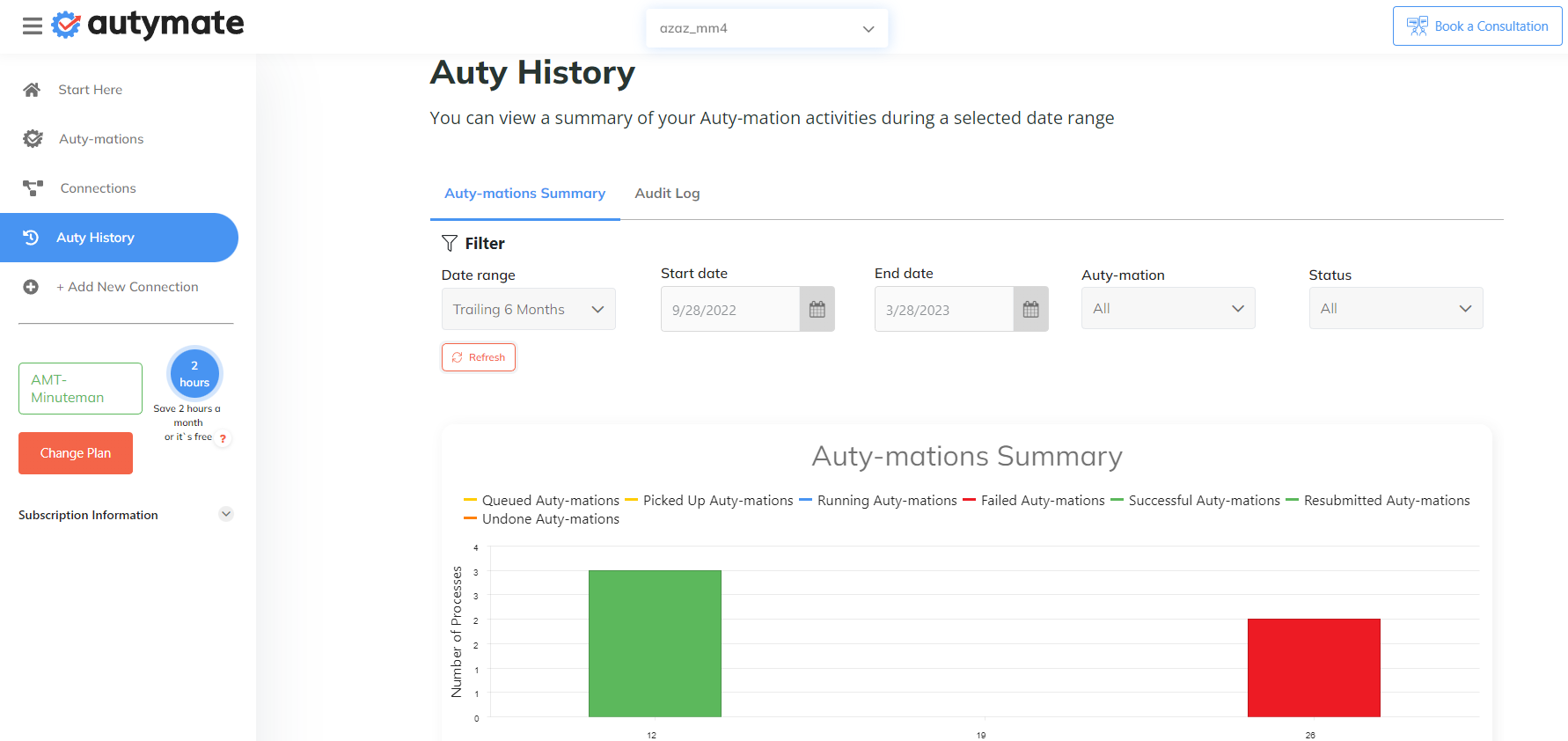 Once you set the filters, click on the Refresh button on the page, and you'll be presented with a detailed history regarding the Success/Failed files. If a file transfer failed, it'd show a friendly error message with a reason for the failure.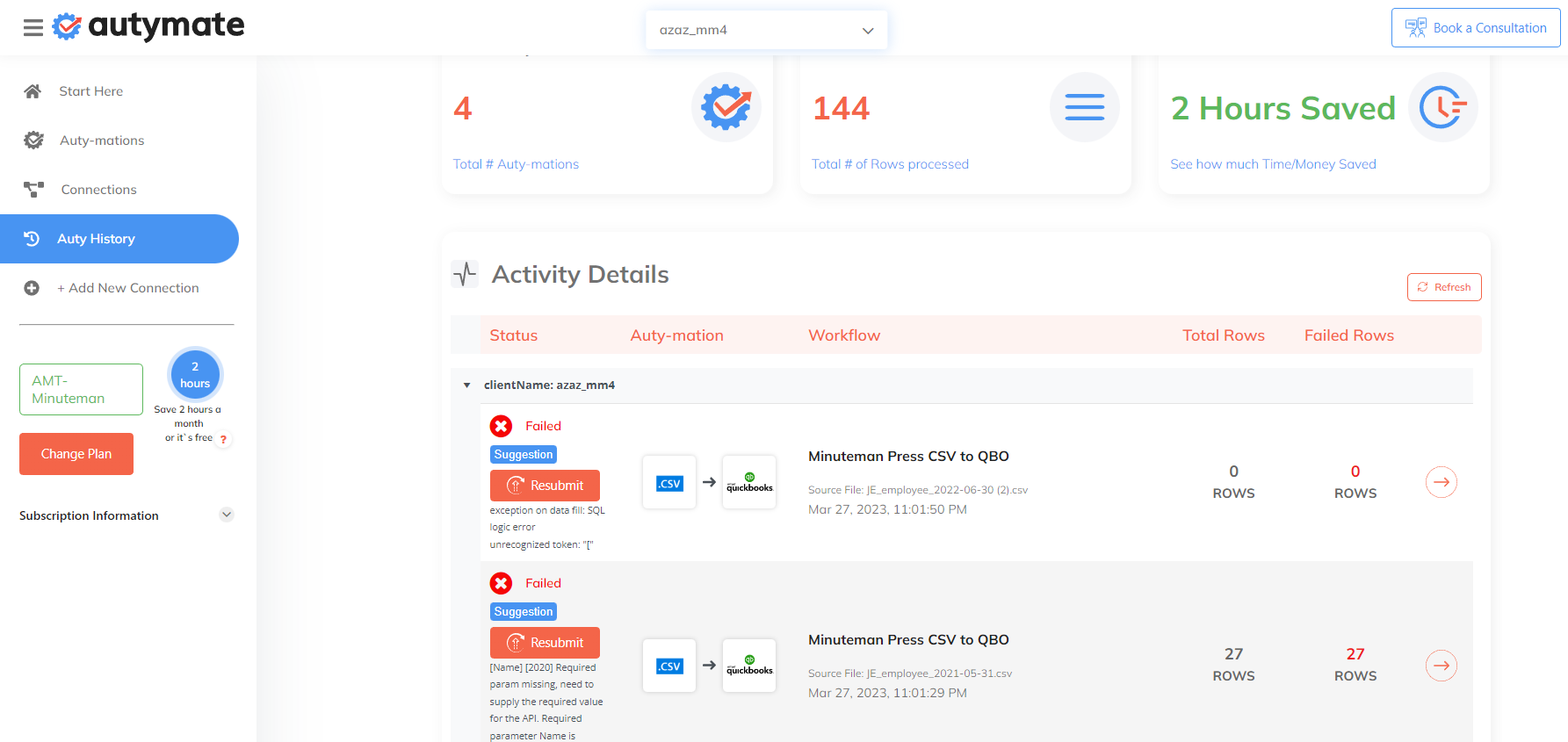 You can click on the blue Suggestion button to get more information, and you can also click on Resubmit button to resubmit your failed integration.
You can also UNDO a successful integration if you wish to re-upload it. Click on the Success integration, and you'll be prompted to the next page with the processed file details, and there you can UNDO any integration you wish to remove from your QuickBooks, which was uploaded by Autymate.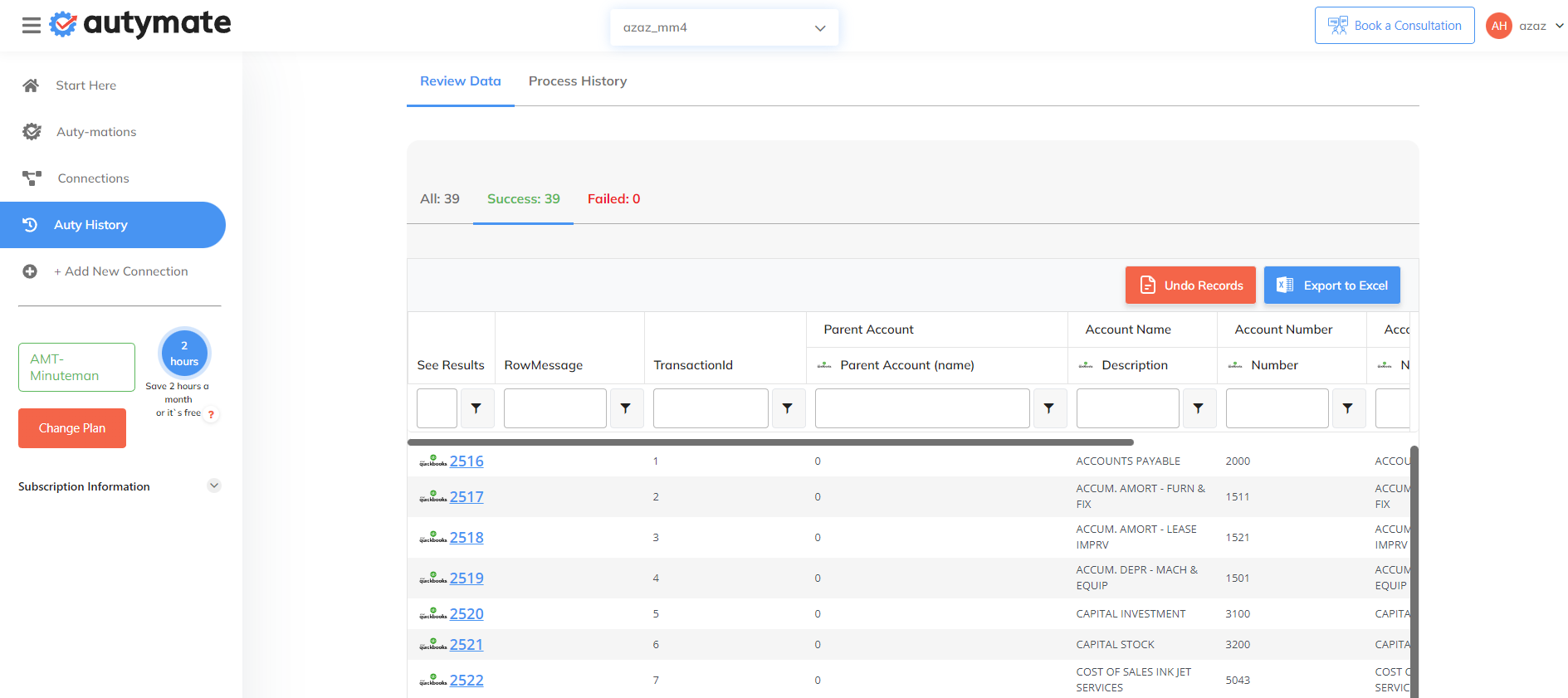 You can also click on the entries within the file, and it will take you to the entries' location directly in your QuickBooks.
Example: in this case, you can see 2448 & 2449, click on any of the entries, and you'll be prompted to the entry located in your QuickBooks.
You can also click on the Process History, and there you can see all the details regarding that specific integration that was processed/failed, as shown below:
We'll be updating the guide if there is any change/upgrade applied.