FAQs for Autymate | Transactions Follow

The following is a running list of FAQs associated with Autymate | Transactions. Check back often, as this list receives frequent updates!

1. Where can I get technical help for Autymate | Transactions?
The quickest way to receive technical support or have a question answered is to be logged into Autymate | Transactions as a user and looking for the Chat/Help Widget at the bottom right-hand corner of the window. From here, you will be able to live chat with a representative who is there to answer your questions. You can also open a new support ticket within this widget.
You can also send us an email to our support account: autyteam@autymate.com

Feel free to browse our Knowledge Base and Community Forums for a variety of resources on Autymate | Transactions.
2. How do I signup for a trial of Autymate | Transactions?
To sign up for a trial, navigate to our app landing page. We offer a 30 day free trial period for new users, so simply select Start 30 Day Free Trial option on this page.
3. When importing a file for my transactions, does the import file need to be in a specific format?
The following file formats are supported for upload in Autymate | Transactions:
Additionally, your import file will need to be in compliance with our File Format Guidelines.
4. Does Autymate provide any sample or template files for imports?
Yes. We actually recommend using our template files for your imports, as it will automatically map all fields making your import process even easier! You can find our template files by selecting Download Templates in the side menu.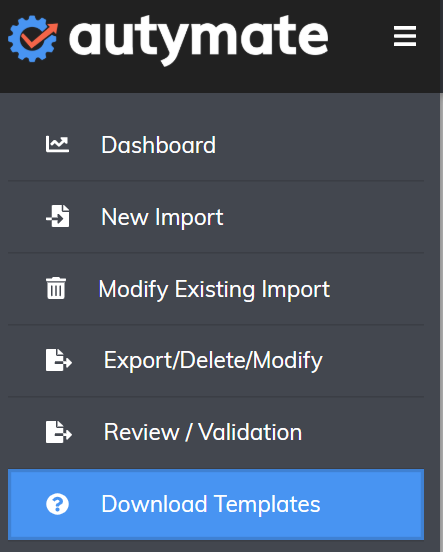 You can read more about our default template files here.
5. What transaction types and lists can be imported to QuickBooks Online using Autymate | Transactions?
We support the following transaction types and lists found in Quickbooks Online:
Customer Transactions:
Vendor Transactions:
Lists & Other Transactions:
6. How do I import transactions that have more than one associated line item?
You may include additional line items for a transaction by simply adding a new row for that invoice item. Be sure that you use the same invoice number for each new row to be added as an invoice line item.

The sample data of the invoice template on our default templates demonstrate the proper data format for multiple line items.

7. How do I undo a data import?
You may undo a data import by using the side menu to navigate to the Export/Delete/Modify page: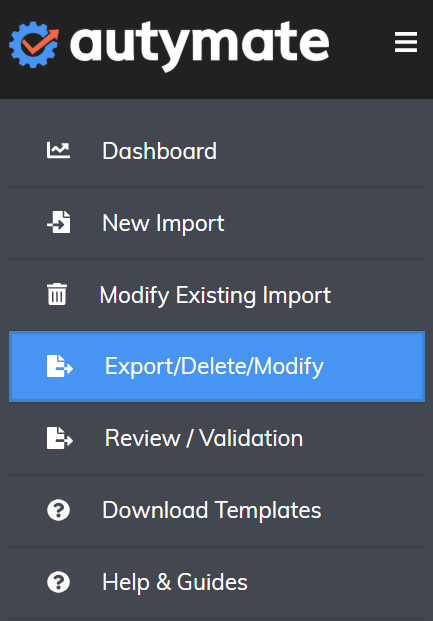 You can check out more information on the Export/Delete/Modify functionality here
TODO: Need article on Export/Delete/Modify
8. How can I create, manage, or reset my login credentials or password for Autymate | Transactions?
If you previously used your Intuit credentials to login to Autymate | Transactions, you can change your password by logging into QuickBooks Online. To create or edit login credentials specific to Autymate, select the user icon and then select User Management.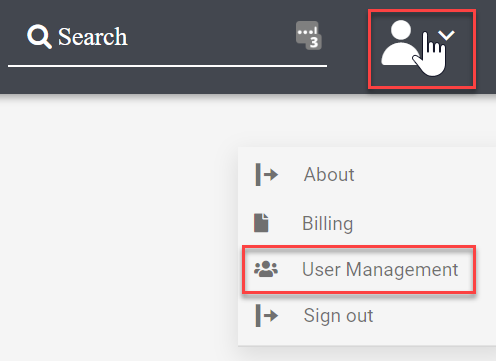 You can read more about Autymate's User Management Tool here!
9. How is my data kept secure when using Autymate | Transactions?
We use Strong SSL to encrypt all requests between your computer and our server. Neither a user's import data nor QuickBooks Online data are ever shared, as are used solely for automated business imports.
10. Can I import my own custom Excel or CSV file?
Yes. While we encourage the use of our template files, you can definitely import your custom files instead. Be sure to follow our file formatting guidelines!
11. Why should I use Autymate | Transactions?
There are several reasons why you will prefer Autymate | Transactions over competing products:
Elegant User Interface
Best Quality
Best in Technology
Best in Pricing
Best Packaging
Best Support