Autymate | Transactions Default Template Files For Download Follow
Autymate's goal is to streamline your business tasks as much as possible. To speed up the mapping process and make importing your data even easier, we recommend the use of our template files for import.
US Template File (Simple)
US Template File (All Fields)
We offer both a simple template format and a complete template format. The simple template contains the most common and/or necessary fields for each transaction or list type, while the complete template format offers all possible fields that can be automatically inserted for each template type.

Using our template file for your import will ensure that all of the column headers in the data file will match automatically with the corresponding field names during the mapping process. This means you will be able to skip the template mapping process entirely!

How To Download Autymate My Transaction Template Files


You can locate the default template files by selecting Download Templates in the side menu when logged in to Autymate | Transactions.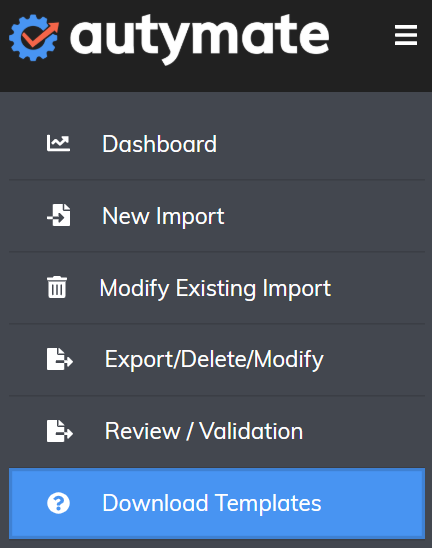 Simply save your preferred Excel file to your local machine and begin editing. To limit confusion on which bits of data should go under each column, each template within these files comes with a small amount of sample data that you can use for reference. This sample data can be removed from the file without issue.