How to Import Journal Entries into QuickBooks Online using Autymate | Transactions Follow
Below is a step-by-step guide on how to import Journal Entries data into QuickBooks Online using Autymate | Transactions.


Getting Started
To get started with importing your data to the Autymate | Transactions app, use the side menu to select the New Import option as shown below.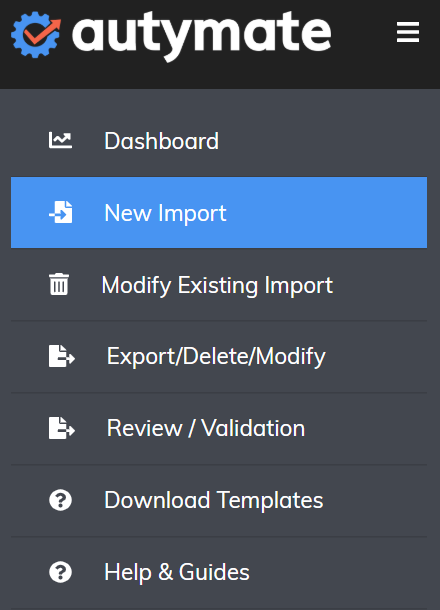 What is your source?
If you are creating a new integration from a previously uploaded import file source, locate your desired file under Choose from your existing connections.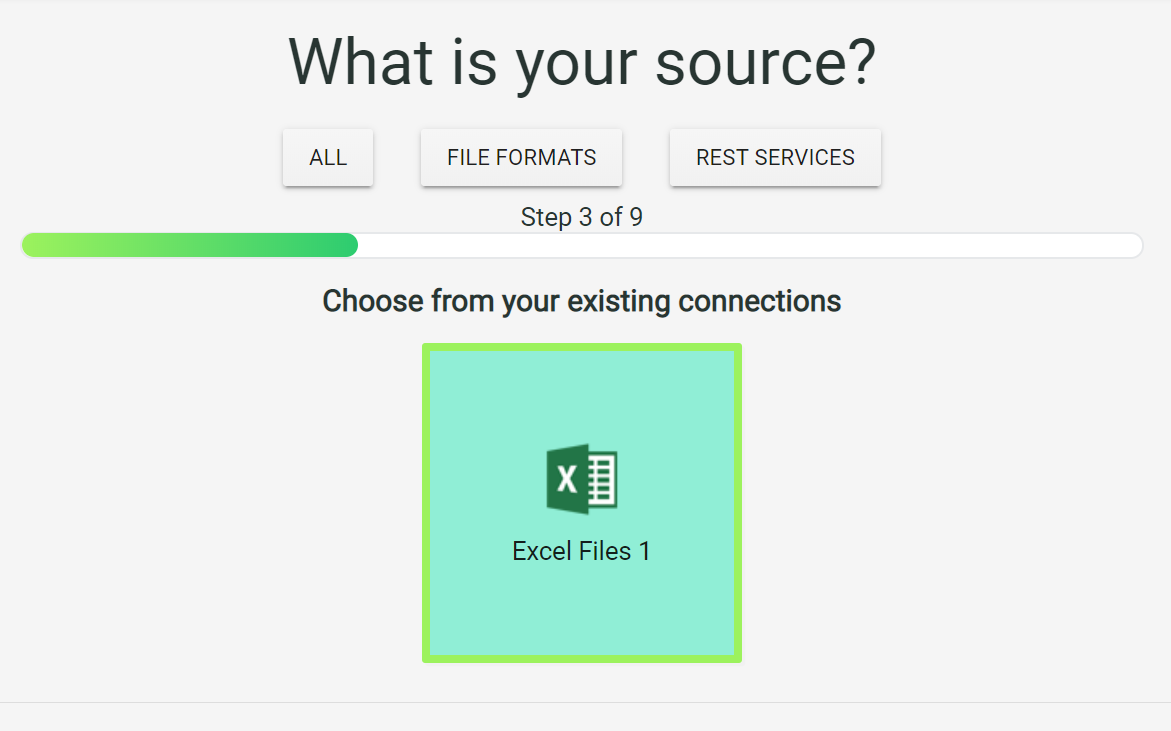 If you are connecting to a new data source, begin by specifying the file type of your source import data.
This will navigate you to the Name your Connection page.
Name Your Connection
You can specify the name of your connection here. Click inside of the text box to change the default name of this connection. The default connection name will always be the type of the source that you have selected in addition to a unique integer value.


Specify a connection name that is easy for you to remember. The name of your connection can always be changed later.
Drag and Drop File below or Upload
Once you have named your connection, you will be asked to upload your file. This can be done by either dragging and dropping a compatible file or by selecting the "SELECT FILES..." button in the file upload window.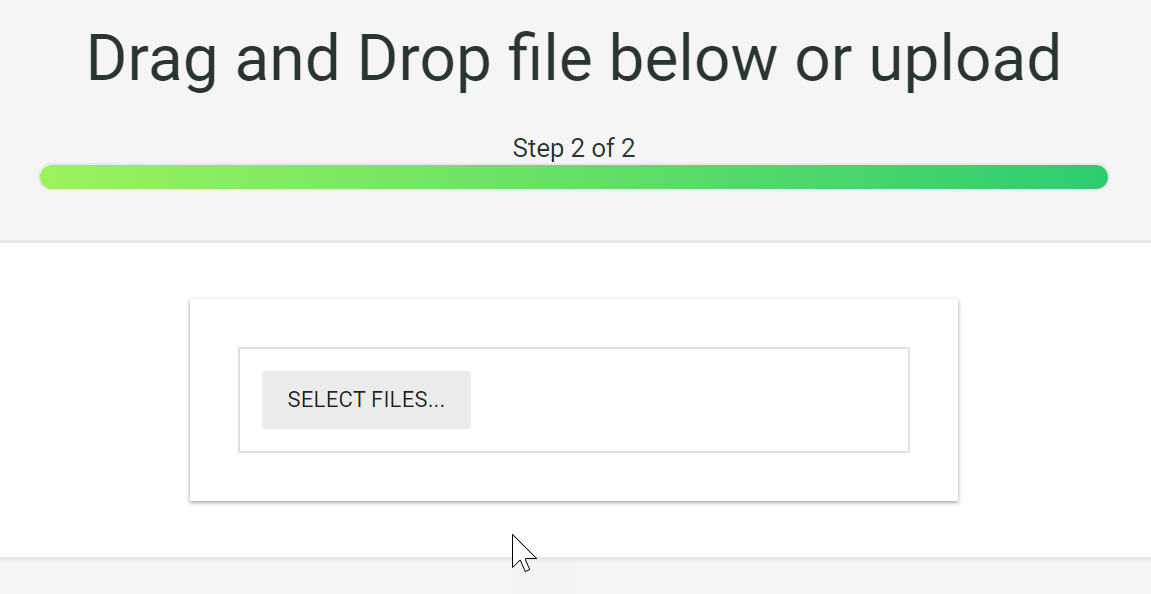 Once all of the desired files are successfully imported, select the CREATE option.
Choose Sheet
After your file has finished uploading, specify the sheet within that file that you would like to map data from in QuickBooks Online.

Multiple File Uploads

Autymate | Transactions supports simultaneous uploads of multiple files. In order to do this via drag and drop, highlight multiple files of compatible types and drag them to the target box. Alternatively, use the SELECT FILES button again to open the File Explorer and select multiple files to be uploaded.
Upload Failures
In the case that a file fails to be imported, the problematic file will be highlighted in red as shown below.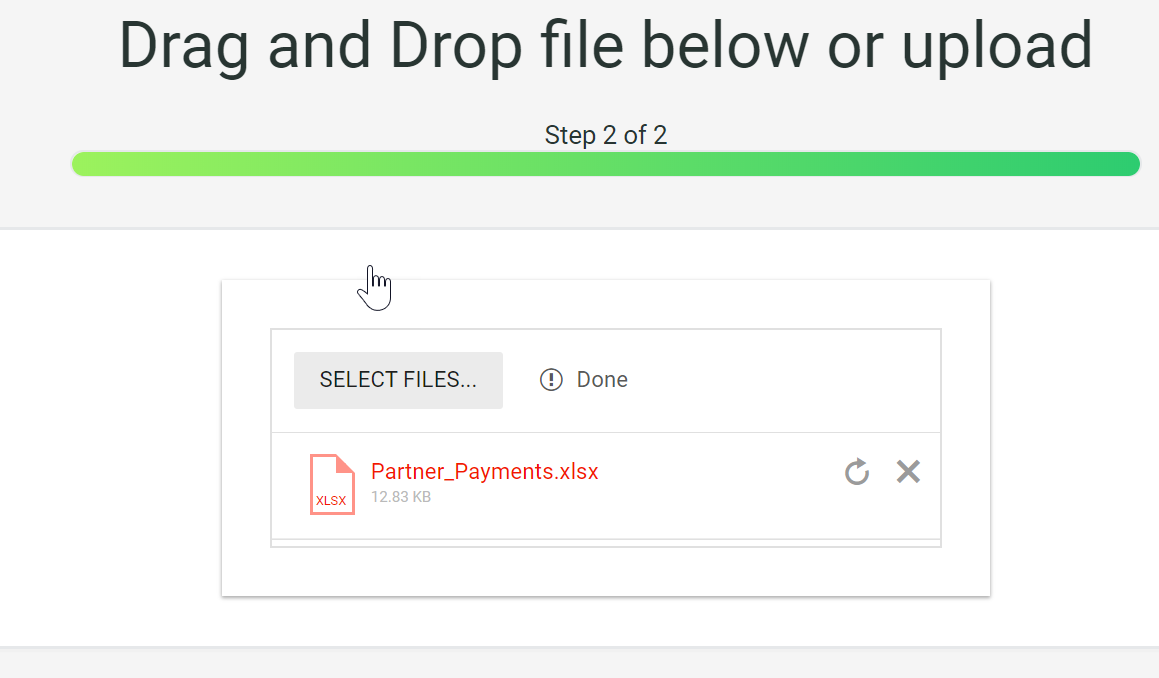 If this occurs, you will be given the option to attempt the import again but selecting the Refresh icon. You can also remove the problematic file from the upload window using the X button.
What is your destination?
Now it's time for you to select your destination connection from the available options. Autymate | Transactions supports QuickBooks Online, QuickBooks Desktop, and QuickBooks Point of Sale.

How do you want to import?

To view only Other Transactions, select the Other Transactions filter option at the top of the screen:

Other Transactions include the following entities:
Time Activities
Journal Entries
Bank Deposits
Transfers
Mapping Fields
Each QuickBooks field that you may map your imported data to is denoted with a dropdown box and cog button as shown below:



Required Fields

A red asterisk next to a field name indicates that this is a field that must contain data to ensure a successful import. All fields that are not denoted with a red asterisk can be ignored.

Field Dropdown Menu
The field dropdown menu contains all recognized column headers in your imported data spreadsheet. If the column header directly matches the QuickBooks field name, the dropdown will automatically populate the matching column header in its corresponding field. This automatic mapping can be overridden if desired. If a QuickBooks field item name does not match any column headers found in the imported spreadsheet, simply use the dropdown menu to select the desired column header for that field.

Advanced Field Options
Selecting the cog icon will bring up a description along with the advanced options of that field.

Form Complexity
QuickBooks Online has many different data fields that can be populated within each of its Customer Transaction forms. In order to streamline the import process, Autymate | Transactions offers both a simple and a complete view of data fields in its Mapping pages. The simple view is selected by default and is comprised of only the necessary and/or most commonly populated fields for that transaction form.
You may use the Enable Complex Form slide bar at the top of the form to toggle between the simple and complete view at any time during the mapping process.

Simple Form:




Complex Form:


How to Import Journal Entries
In the What would you like to import? step, select the Journal Entries option as shown below.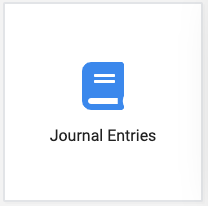 You will be navigated to the Journal Entry Mapping page. For ease of use and familiarity, this page was designed to emulate the QuickBooks Online Journal Entry form.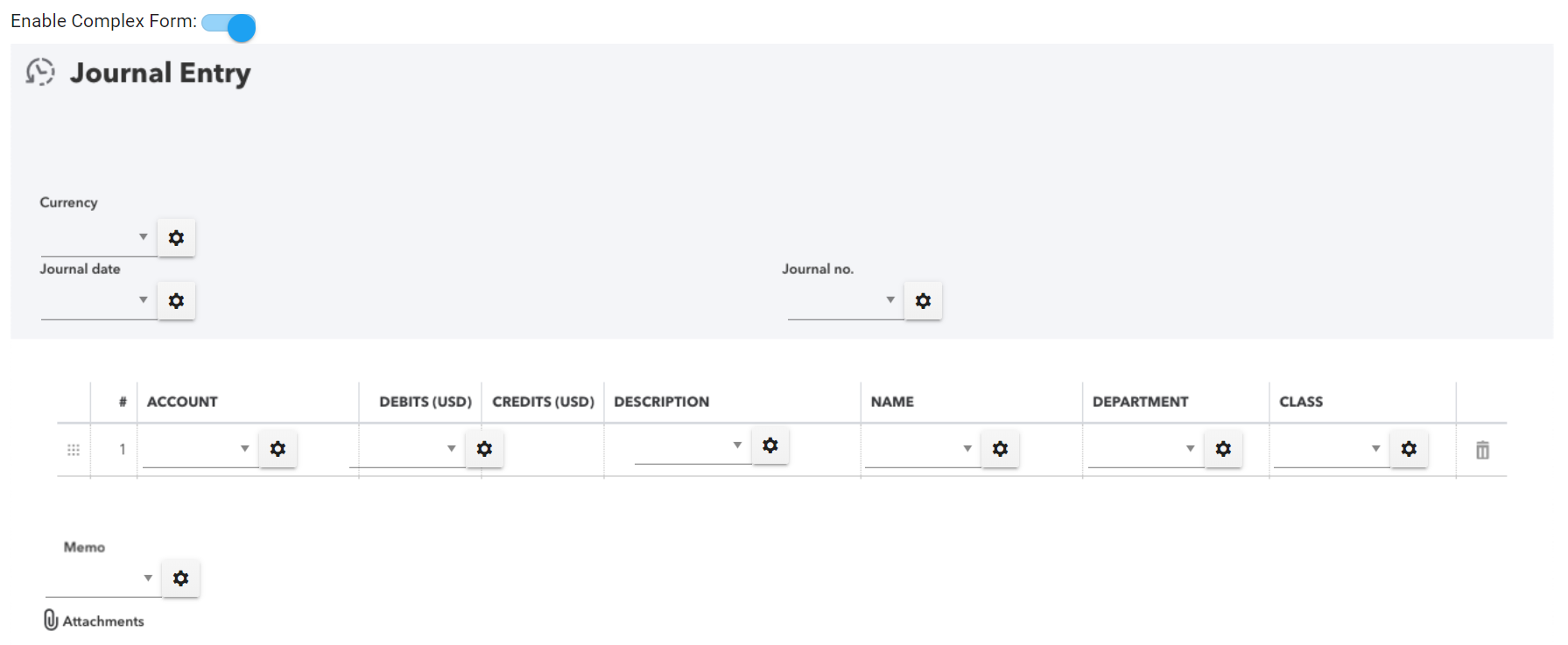 ---
---
Troubleshoot Common Issues
---
---
Error: Please balance your debits and credits
---
Example: Error: Please balance your debits and credits. Supplied values: Total debit= 130.00, Total credit= 20.00. Given Value: 10
Journal entries are incredibly powerful and a crucial part of managing your books, and it's great that you're using them to record complex transactions. In your post you mentioned thinking VAT may be causing the issue, and I think you're definitely on the right track! The tax centre and tracking sales tax in QuickBooks Online is designed to function seamlessly with standard transaction types. Taxes are calculated and rounded for each line of the transaction, then totaled at the end. Because of this, it's not typically recommended to use automatic tax tracking in journal entries.
Since you're already comfortable using journal entries for complex transactions, I think you'll appreciate the unique way journal entries integrate with the tax centre. You can manually record tax amounts and map them to the correct line of your tax return. Simply select your tax liability account (typically GST/HST Payable) and you'll be able to select a line in the Sales Tax column. With this feature, you'll also need to ensure taxes aren't being automatically calculated on other lines. The best practice in this case is to select Exempt (Sales) for income and Exempt (Purchases) for expenses to have an accurate line 101 when filing. I've attached example below.
This solution is best suited for accountants, due to the nature of the details involved. If you're unsure of how to record this, please speak with a sales tax professional to confirm the proper mapping. If you're interested in finding an accountant in your area, simply head to the My Accountant tab in QuickBooks Online then click on Find a pro to help.
​